Get Ready for 1,000% Gains
and $100,000 Profits
by Brenton Flynn
---
I have to say the excitement is building here at Investing Daily as we prepare for our Radical Wealth Summit.
And I'm thrilled you'll be joining us on Tuesday, March 27 at 1 p.m. ET for what we're positive will be a life-changing, wealth-building event.
Joining me on the webinar will be Jim Pearce.
Jim is Director of Research at Investing Daily, overseeing the work of our entire analyst team.
You might also know him as the Chief Investment Strategist for Personal Finance, our flagship publication.
And if you've read any of the thousands of articles on investing he's written over his 30-plus year career, you might also be aware he's managed over $50 million in assets.
And he's executed trades in excess of $5 million.
And he's even founded his own private investment banking firm.
However, there's one thing I'm absolutely certain you don't know about Jim.
Which is that he's spent the last two years working on one of the most exciting... innovative... and lucrative investment strategies ever developed...
Designed specifically to create extreme wealth.
The kind of strategy that could easily turn $1,000 into $10,000... $7,500 into $75,000... and $10,000 into $100,000.
That's right... ten-times your money.
And the information you'll receive during the live summit is Jim's blueprint for consistently raking in these 10-fold gains.
Jim will reveal how you could have achieved off-the-chart profits from companies like...
Exelixis, Inc., which shot up 2,167%... in a little over two years.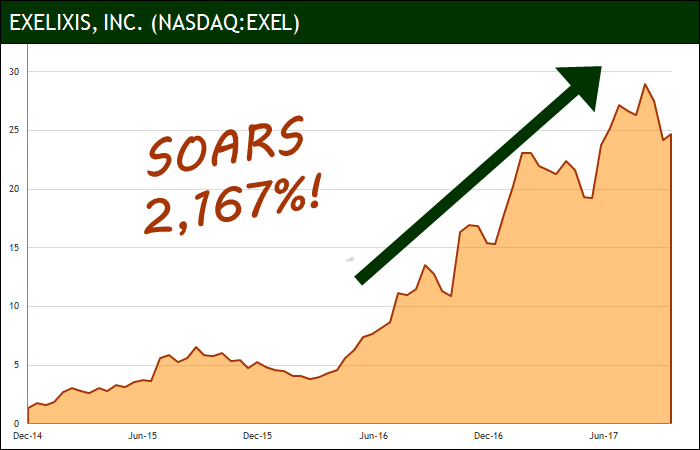 Straight Path Communications, which skyrocketed 4,532%... the majority of the gains happening in less than six months.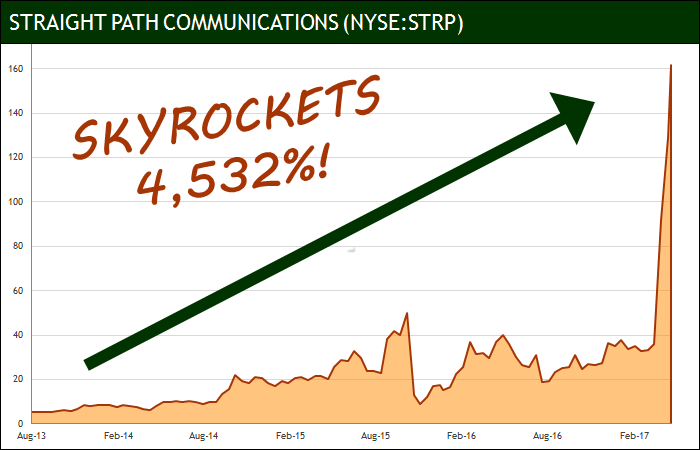 Heska Corporation, which soared 1,615%... most of the increase occurring in just one year.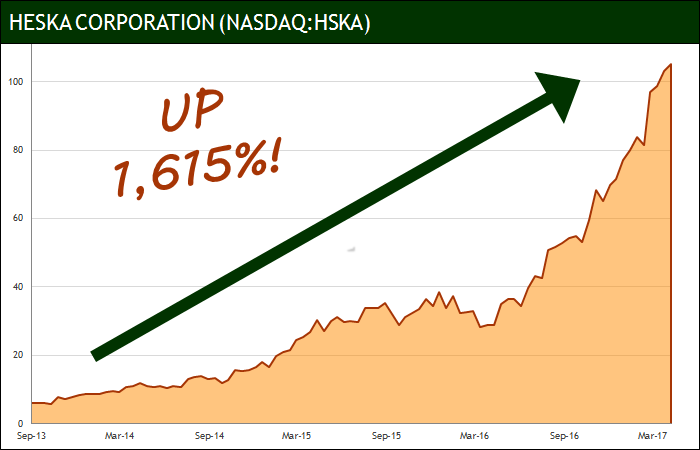 Sarepta Therapeutics, which jumped a phenomenal 1,455%... in a little over a year.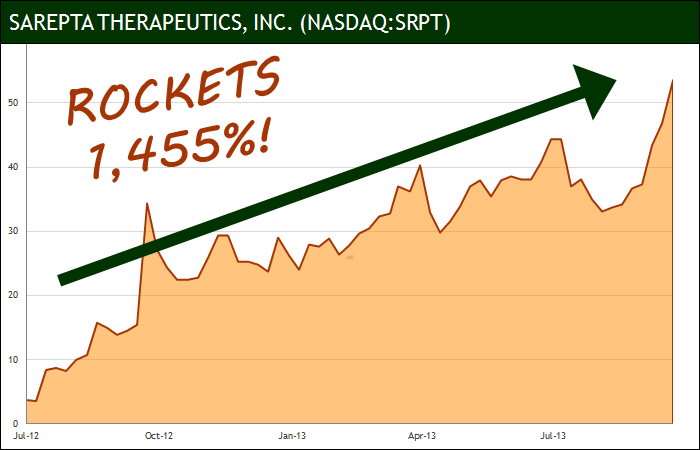 Clearfield Inc., which went up 1,636%...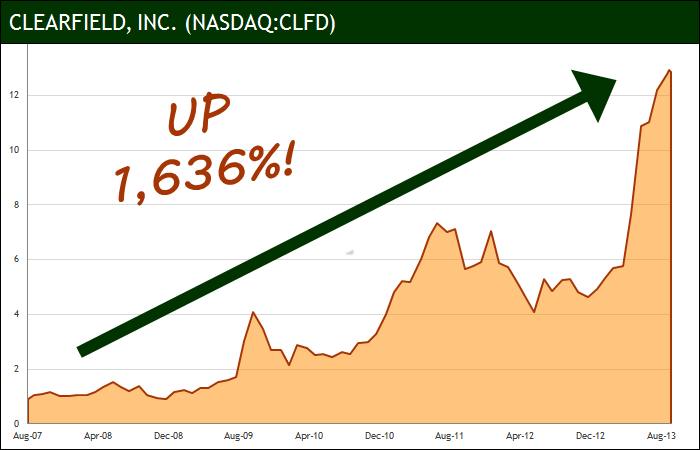 And Garibaldi Resources, which catapulted a jaw-dropping 3,958%... in only 4 months.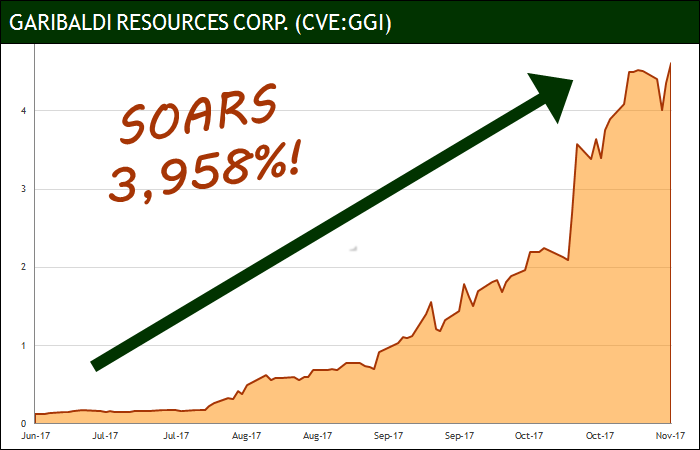 Imagine this: If you had put $10,000 into each of these investments, you could have walked away with $1.6 million.
Again, we're talking about the potential for vast, radical wealth.
And while gains like these are extraordinary, according to Jim they are not out of the reach of the average investor.
In fact, Jim's historical analysis proves there's a treasure-trove of rarely reported stocks that go up 1,000% or more...
Many in just a single year!
After digging into the data, he uncovered 13 of these unique stocks that went up 1,000% or more in 2015...
51 that rocketed over 1,000% in 2016...
And 65 that catapulted 1,000% or more in 2017.
And yes, all of them were pure stock plays. No tricky options. No margin requirements. All were the kind of trades you could execute today with a standard brokerage account.
But to consistently hunt down these 10-bagger gains, Jim knew he couldn't do the work alone. That's why he assembled...
The World's Savviest "A-Team" of Investment Experts
You might already know some of them...
With Jim included, the Radical Wealth team includes 8 titans of investing.
It's quite literally a brain-trust of the world's best stock-picking experts.
And that's exactly what Jim needed in order to accomplish the Herculean task of tracking down the most lucrative investment strategies...
The kinds of recommendations that can quickly skyrocket a small $10,000 stake into a cool $100,000.
Now the team is ready to make public the research that could help you bag multiple 1,000% winners... all in the next year.
And at the heart of it all is "David versus Goliath" investing.
It's a revolutionary strategy that gives investors access to a steady stream of MASSIVE 1,000% winners.
Investors who have tapped into the same techniques used in this strategy have seen REAL returns of 1,988%... 2,476%... 2,788%... and 4,526%.
And Jim will reveal all the details of this wealth-building strategy during the Radical Wealth Summit.
"Another phenomenal year of trading…
I had $151K realized gains."
If you have any doubts this A-team of investing experts can pull off such an amazing feat, just read what their followers are already saying about their recommendations...
"A great big thank you for another phenomenal year of trading… As a result of your fine recommendations and your teaching, I had $151K realized gains. I feel much more secure in my retirement."
— Fred Layton, San Francisco, California
"I am happy to report my results... $71,425 profit on closed positions."
— James Cook, Scottsdale, Arizona
"I have made in excess of $100,000…"
— Danielle Myers, Fort Walton Beach, Florida
"The account where I exclusively trade... was up over $110K for a one-year return of 83%. Much better than your $25K goal when I signed on… Thanks again."
—Frank Lacy, Pasadena, California
"My annualized rate of return is a staggering 14,852.3%!!"
— Noelle Andrade, Holly Springs, North Carolina
"My profit for 2014 was $12,173... in 2015 it was $42,617... in 2016 it was $69,512... and YTD June 30, 2017 it's $106,715. Fabulous service from Jim."
— Joe Lundblade, Portland, Oregon
Jim and I can't wait to share the Radical Wealth team's breakthrough strategy with you.
So mark your calendar for March 27th. The webinar will go live at 1 p.m. EST at www.investingsummit.com.
And be sure to visit www.investingsummit.com daily to catch up on all the exciting pre-webinar news.
Tomorrow, Jim will reveal why the "David versus Goliath" system is hands-down the easiest way for the average investor to rake in ten-fold gains in the next year.
And then on March 27th we'll cover the complete details during the Radical Wealth Summit.