The Crazy (But True) Chart
With the 22,809% Upside...
By: Brenton Flynn
---
Over the past couple days, Jim Pearce and I have been posting articles about the David vs. Goliath investing system. This unique system helps our Radical Wealth team pinpoint a virtual treasure-trove of stocks on the cusp of making 1,000% or more gains.
Today I thought I'd do something a little different. I want to give you a sneak peak at a stock chart Jim's planning on sharing with us during the webinar on March 27th: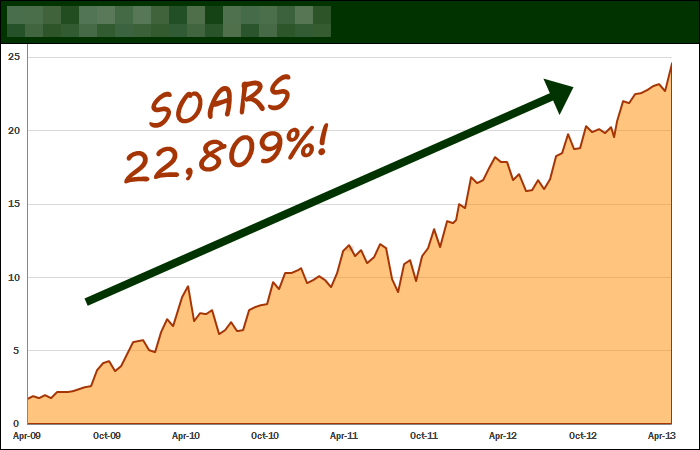 As you can see, I've blurred out the company name because Jim wants to go over all the details with you during the live event. And quite frankly, he'll do a much better job than I could explaining how this company achieved such exponential growth in such a short time.
However, he did give me permission to share a few details right now.
First, let's talk about the elephant in the room (so to speak)....
Yep, that's a jaw-dropping 22,809% gain you're looking at!
You could have bought a share of this company for a mere 11 cents...
And sold for $25.20.
Let's put that into perspective: Had you put $1,000 into this company, it would have turned into $228,090.
$2,500 would have grown to $570,225.
And had you put in $7,500... you would have walked away a millionaire ($1.7 million to be exact).
Now you might be thinking this chart is about some high-flying pot stock that no one has ever heard of...
Or some hard-to-track company that only trades on a foreign stock exchange...
Or, heaven forbid, a wild and crazy crypto company.
But that couldn't be further from the truth.
You see, this chart represents a company I'm willing to bet you're quite familiar with.
It's an American company you've probably done business with on at least one occasion if not more.
They're a retailer that's been in business since the 1960s. And like a lot of retailers they hit rock bottom during the years following the 2008 financial crisis.
But as you can see from the chart, this scrappy company literally clawed its way back from the dead to post its phenomenal gain.
It's exactly the kind of company Jim and his team of Radical Wealth experts are always on the lookout for.
During their historical research, they found the company after it triggered all four of their "David versus Goliath" indicators.
Jim will tell you all about these indicators during the live webinar.
But what I can tell you now is these indicators help Jim and his team accurately predict which companies are most likely to make huge share price leaps... long before it happens.
And if you think this investment uncovered by the David versus Goliath system is a "one-hit wonder"... just a fluke that rarely happens in the markets...
Think again.
While it's true that not all "David" companies will produce massive gains like this one...
During Jim's presentation on March 27th, he'll show you example after example of companies that have made ten-fold gains like 1,636%... 1,988%... 2,167%... and 3,958%.
Most of them under two years and quite a few well under a year.
To add icing on the cake, he's also going to reveal...
The Top 5 Ways You Could Bag
$100,000 in Profits
I can't wait to hear the details on these companies poised to hand early-in investors gains of 1,000% or more.
So remember, the webinar airs at 1 p.m. ET on Tuesday, March 27th.
Just head over to www.investingsummit.com a few minutes early.
Because I promise you…
You don't want to miss a thing.
See you on the 27th.
To catch up on all the latest pre-webinar news, click on the link below to go to our Radical Wealth Summit website.